Steam continues to reach new highs despite the overall games industry facing post-covid headwinds.
Q3 2023 saw Steam beat records in terms of new games released, total units sold as well as full game revenue.
3,547 new games released on Steam
3rd quarter of 2023 saw a whopping 3,547 new games released on Steam. This is more than the previous record of 3,473 in Q4 2022. It's also 12% more than same time last year.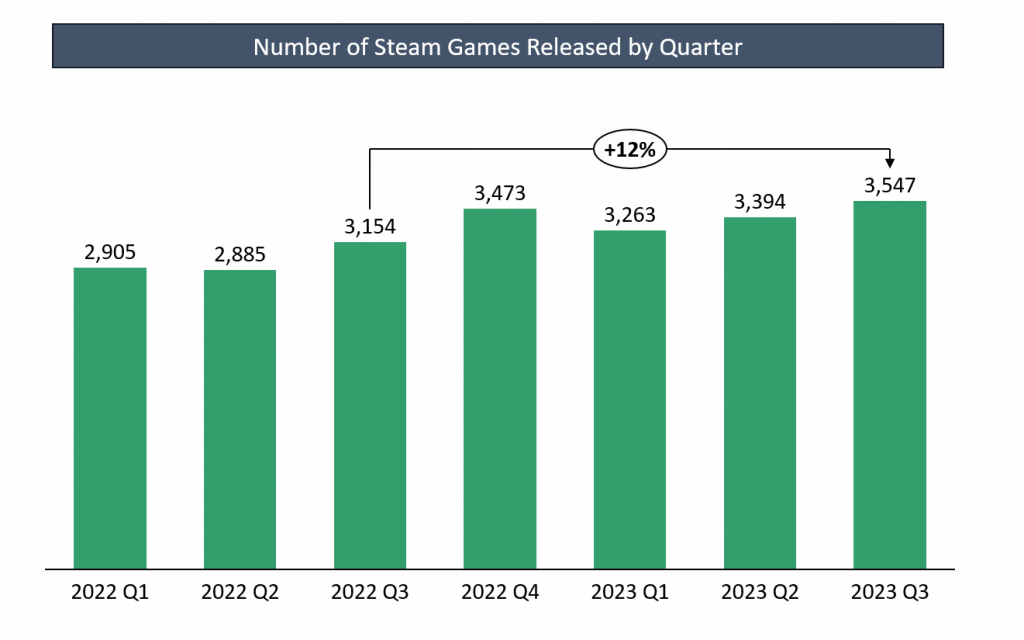 However, AAA & AA games only saw 38 new games released, a -13% YoY decline. Growth in new games releases continues to be led by small hobby developers and indie studios.
1.7 million games sold on Steam per day
Steam saw 154 million game copies sold in Q3 2023. This is +26% more than last year. Although strong performance, it falls short of the traditionally strongest Q4 performances, driven by Black Friday and Holiday sales.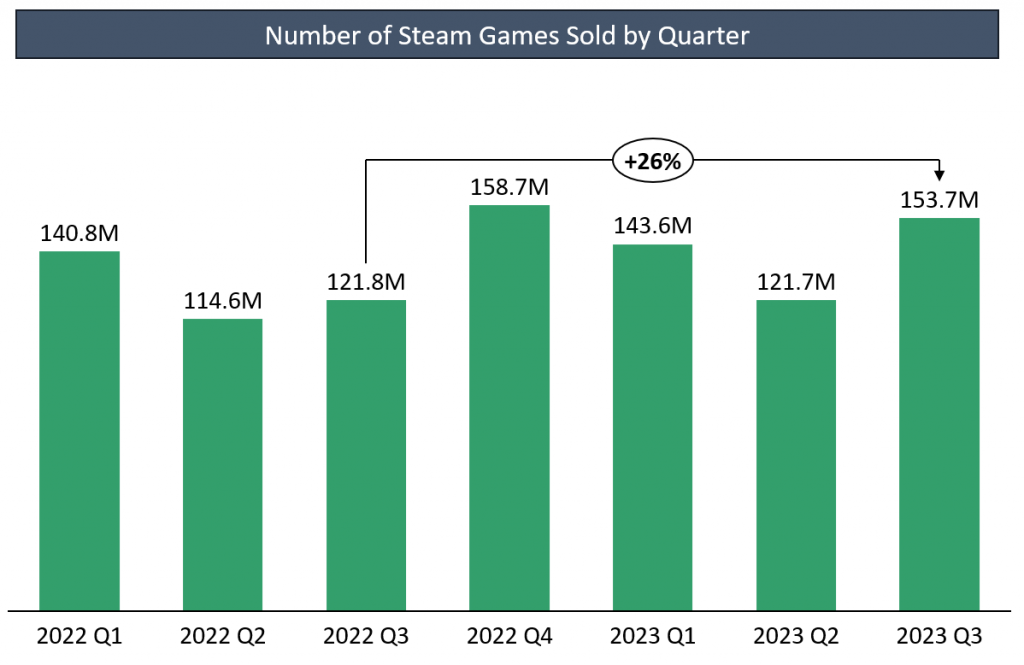 Strong Q3 unit sales were largely driven by strong AAA launches. Baldur's Gate 3 & Starfield dominated the premium game sales while Overwatch 2 and Counter-Strike 2 helped to boost free to play game installs.
Over $2 billion in full game revenues
Q3 2023 saw $2.43bn in full game revenues on Steam, up +51% YoY. Q3, traditionally one of the weaker quarters as a result of steep sales, saw a big boost, driven by new game launches, selling at full price.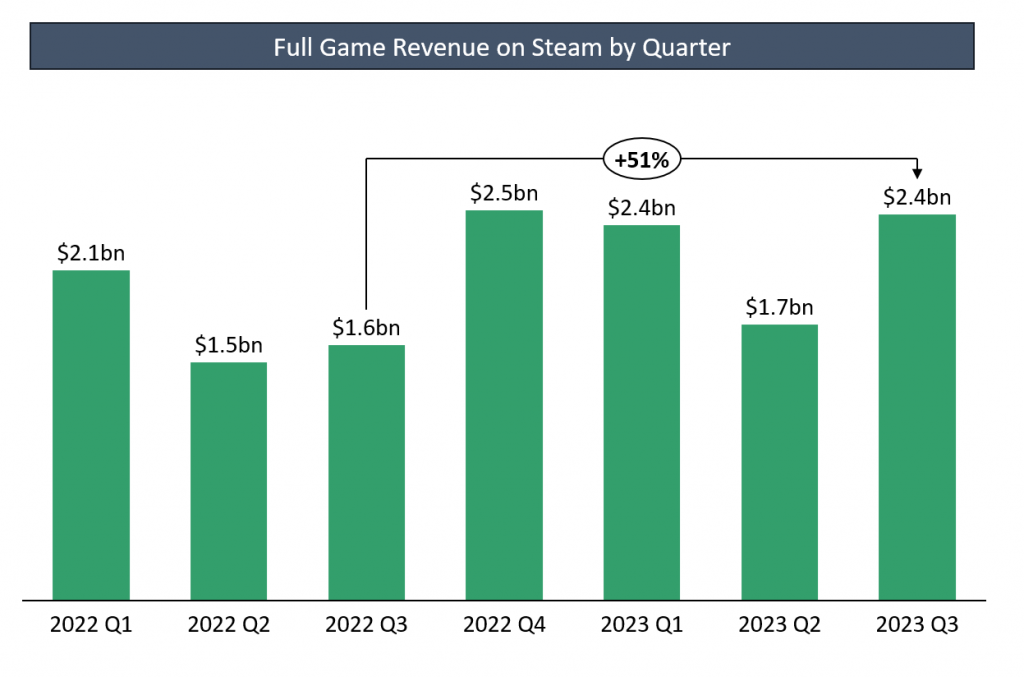 AAA & AA games made up $1.8bn or 74% of all Q3 revenues and grew by +74% YoY.
The domination of Baldur's Gate 3
Baldur's Gate 3, Starfield and Armored Core VI were the top 3 biggest releases of Q3 2023. However, there was really only 1 massive hit in that period – Baldur's Gate 3.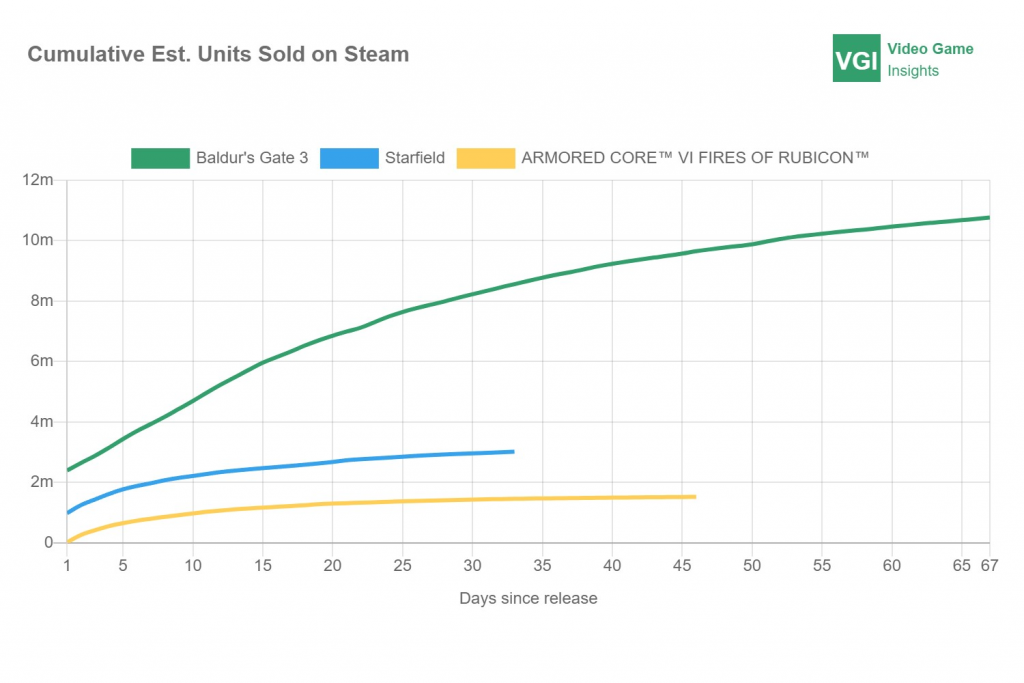 With over 10 million units sold in the first 2 months, Baldur's Gate 3 overshadowed all other releases by a wide margin.
Even 2 months after launch, there are c. 200k people playing the game at any given time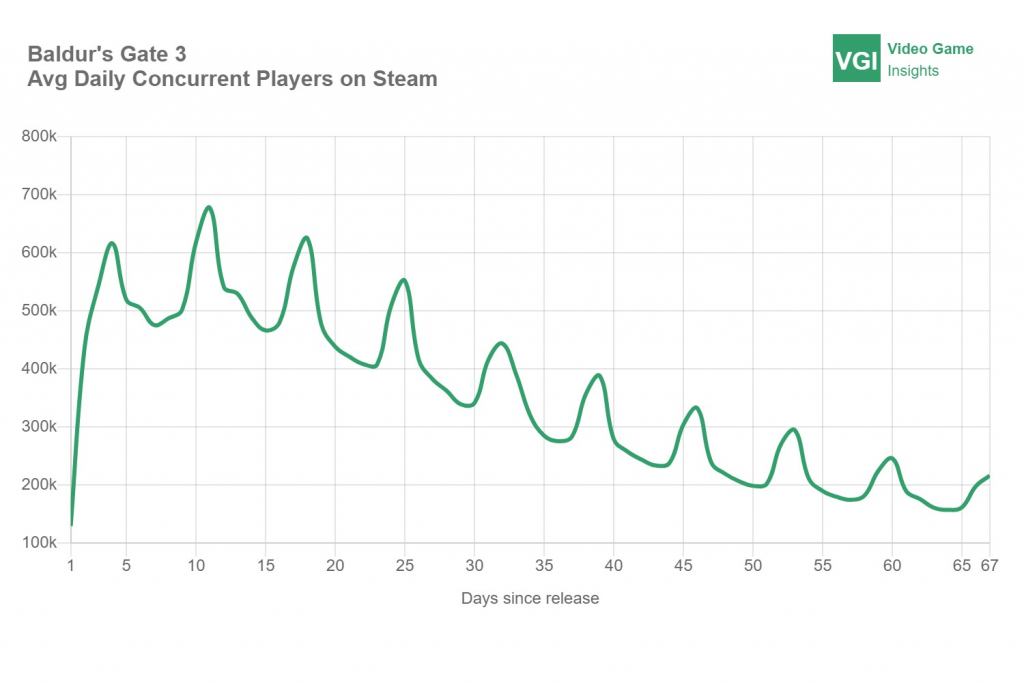 Leading up to a strong year for Steam games in 2023
Steam market is on track to generate over $9bn in full game revenue in 2023, a strong +18% growth over 2022.
This is a welcome sign of strength in the PC market. Steam saw a strong revenue growth in 2020. However, 2020-22 were fairly flat as a result of post-covid normalization and weaker consumer spend.
2023 shows that major AAA hits can still deliver growth in the industry, boosting revenues to new highs.