We're able to see the full impact of Covid to the PC games industry now, 3 years after the start of the pandemic.
We can clearly see how different the Covid experience has been to small and nimble indies, the middle-market developers and the AAA giants of the games industry.
But first, let's see what the PC games landscape looks like in general.
Indie games dominate new releases
Steam sees thousands of new games added on the platform every year, vast majority of them indie games. Out of the 12,434 games released in 2022, 99% were indies.
As a side note, indie studios tend to be small & independent game developers. This can range from a 1-person home studio to 100s of people in other cases. The definitions of indie, AA and AAA are often blurred. You can read more about our definitions here.
In fact, AA & AAA games made up 2.3% of Steam releases in 2018, but dropped to 1.3% during the Covid year of 2021. Large releases have recovered a bit since then, up to 1.5% in 2023, but remain below the pre-covid levels.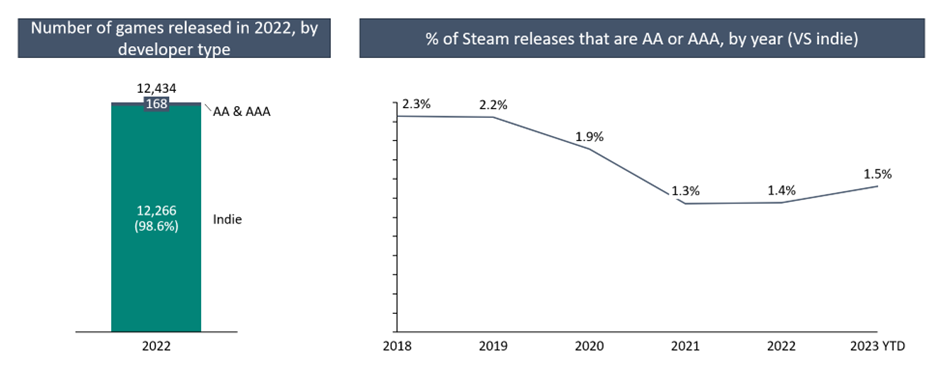 Overall new Steam game releases continue to grow at an accelerated pace since Covid
Pre-covid years of 2018 and 2019 saw an already large number of Steam games released annually, c. 8,500. That accelerated during 2020 as Covid allowed many people to work from home and increase their time spent on hobby projects.
The pace of new game releases has continued since 2020, reaching 12,000 new game releases in 2022 or 34 new games every day!
Flat giants, growing small studios and declining middle-market
The Steam game releases become more insightful when looking at AAA, AA and indie releases in isolation.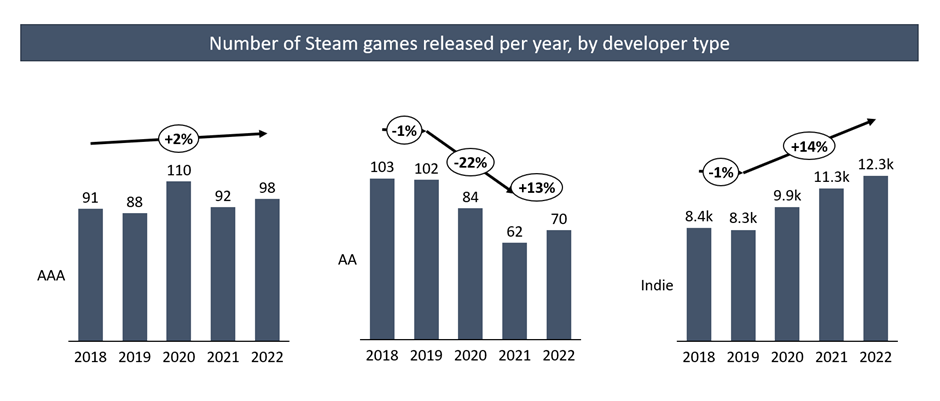 AAA studios were able to more or less mitigate covid impact quickly with better structured home working, better process and, let's be honest, with some crunch. In fact, 2020 saw a record amount of AAA releases. It might be that some studios scrambled to get their game released early, in order to benefit from the Covid boost.
Indie studios have been the clear winners. Having already set up flexible working or fully remote studios meant many studios were barely impacted. Smaller hobby projects saw a huge boom as the working from home AAA and AA employees now had more time for side-projects.
AA studios were the clear losers. While pre-Covid saw c. 100 AA game released every year, this had fallen to only 62 by 2021. 2022 has seen some recovery, but it's still significantly below pre-Covid years.
The fall of the AA games
We predict that the AA games continue to suffer, being squeezed form both sides. The c. $10-50M budget games have a significantly large cost base, but often don't hit the critical sell-through rates.
On the indie side, Unreal Engine 5, AI and other developments have made it easier than ever for small teams to make great games, significantly increasing the B and C tier game supply.
On the AAA side, Game Pass, Epic store's free giveaways and PS+ significantly increase the amount of "free" or cheap top tier games available to players. Players can also rely on their existing libraries of games or steep AAA discounts. The need to buy a new game at full price has taken a big hit.
It's easy to see how macroeconomic squeeze to people's wallets, tied to increased availability of free or cheap AAA and indie games make the "good, but not my top choice" of games struggle.
This all means that the "mid-tier" games have seen some pretty bad launches in 2022 and 2023, significantly underperforming expectations.
The recent news have highlighted Embracer closing some mid-sized studios and the underpefromance of games like Ubisoft's Mario + Rabbids sequel or 2K's Marvel's Midnight Suns. Our platform also suggests some other recent launches such as F1 23 have been a lot weaker than previous iterations.
This trend is unlikely to stop in 2024 and 25. We are already seeing large studios shifting more of their eggs to larger game baskets and away from the "mid-tier". We're also seeing publishers like Embracer suffer, cancel games and restructure, as their focus on mid-tier hasn't paid off.
The future is big and small, but not average
Our prediction is that big games and small studios continue to win and grow while the mid-tier of games falls out of favour for the foreseeable future.
As the innovation in game development technologies continues, it is likely that smaller indie studios will replace the current mid-tier at some point. What costs $20M to make today, might cost $5M in 5 years, making the economics much more favourable.
It looks like the pain for the mid-tier is here to stay.