The majority of developers on Steam have only ever made 1 game
There are over 44,000 developers on Steam. However, the majority of these developers have only ever released 1 game.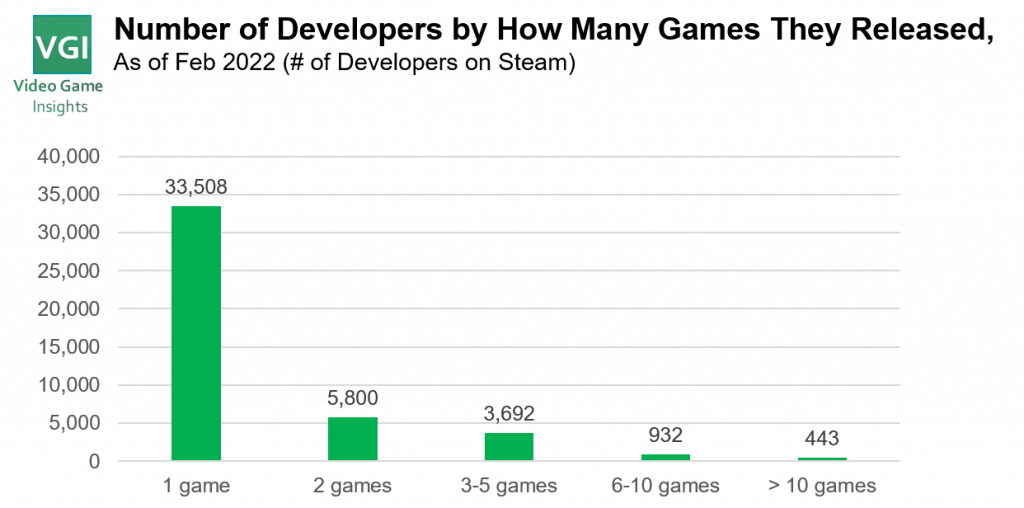 In fact, 75% of the developers on Steam have only released 1 game. Still, given the large number, that leaves thousands of developers with multiple games on Steam. In fact, 443 have released over 10 games. 4 developers have released over 100 games each on Steam – impressive.
Most game developers make very little money on Steam
Similarly, we looked at how much gross revenue developers have generated on Steam.
There has been a lot of talk about indie developers not making much money and there potentially being too many indie developers. At first sight, looking at developer earnings, this seems to be true.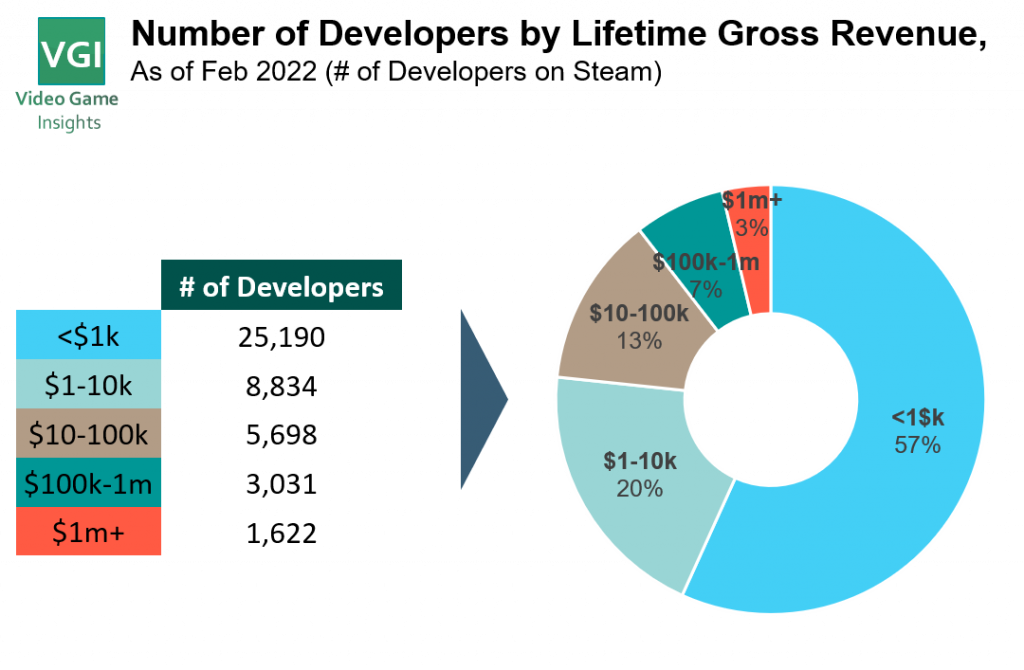 57% of all developers on Steam haven't even made $1k in gross revenue. They are almost exclusively developers who have released only 1 game – likely a hobby project or 'learn to code' type small, often unpolished game.
On the other end you have 1,600 developers whose games have made more than $1m in gross revenue. C. 600 of these are AA/AAA studios with large teams and development budgets that generate revenues in 10s or 100s of millions per game.
But there are still over 1,000 indie developers who've generated over $1m through their games with small teams and low to no budgets.
Everybody makes action games
Steam genres are divided into 9 core genre groupings. We explored what type of games these 44k developers have made most.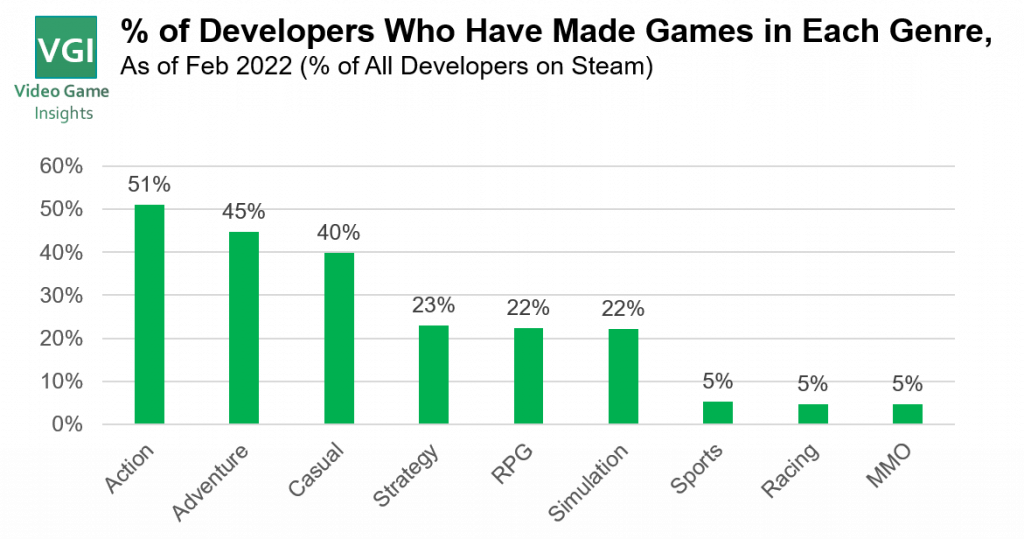 Over half of the developers have made at least 1 action game. Adventure and casual are close behind. Strategy, simulation and RPG are all in a similar group where every 5th developer makes a game in that genre. These are followed by the 3 rare genres. Only 1/20 developers make a sport, racing or MMO genre game. This is not surprising as sports & racing tend to be more niche and MMOs require huge development budgets.
However, the fact that only 1/5 of the developers focus on strategy, RPG and simulation games on Steam is surprising. These genres are the bread and butter of Steam players and PC players in general. Games in these genres do a lot better than average. It's surprising to see the vast majority of developers not focusing on these key categories.
A lot of developers use 3rd party publishers
When I looked at whether developers self-publish or find a publisher, I expected the vast majority of these small independent developers to publish games themselves. While that's true, there's also a surprising number of developers using external publishers.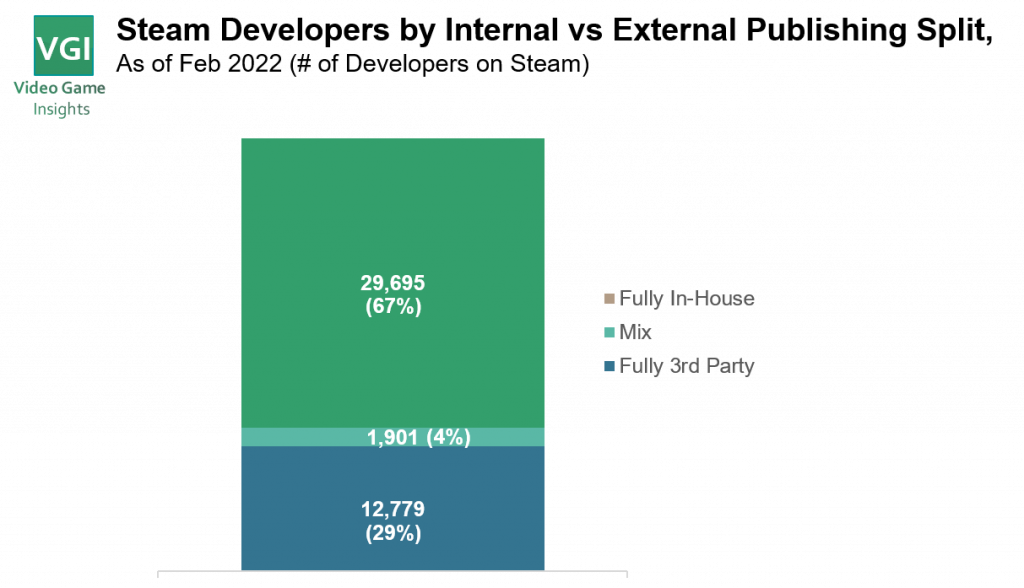 1/3 of the developers on Steam have used external publishers. That's huge! Also, it's interesting to see that developers tend to either always publish in-house or always externally and rarely swap between the two. Only 4% of developers have published games both on their own as well as with a 3rd party publisher. That are still 1,900 developers who have done so. They are mostly indies whose first self-published game did well and helped them to find a publisher for their other games.
The indie game industry is alive and well
There are thousands of developers who have released more than one game and thousands who have earned hundreds of thousands or millions by doing so.
Is it a bit crowded? Yes! There are 30-40 games released on Steam every day. However, the majority of these are not true competitors. If you exclude the hobby developers, it still leaves you with thousands of developers, but the number is much more reasonable.
The indie development industry seems healthy as ever. No apocalypse as far as I can see.
In the next article, I'll dig into the successful developers to understand what they are doing that others are not.