This article explores the average selling price for Steam games. It is important to differentiate between
base price – the original price set for the game
and
average selling price – the true price people paid for the game, including things like promotions
The analysis below includes the average selling price and takes into consideration promotional sales.
Players are willing to spend more than ever – what recession?
Our analysis shows that the average price paid per game on Steam has increased from $11 in 2018 to $15 in 2023. That is, on average, 6% growth per year. Inflation in the US in the same period has been c. 4% per year. So video game prices seem to have outpaced general inflation.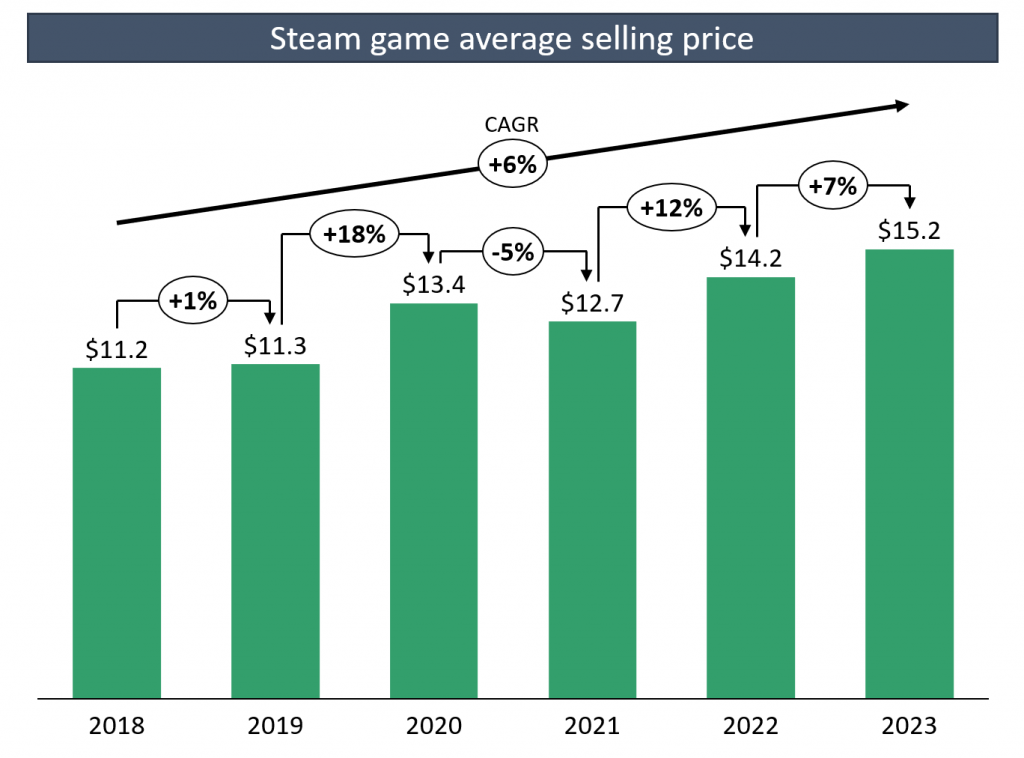 The biggest price jump happened in 2020, as COVID boosted both engagement, but also players' willingness to spend on video games.
2021 saw some normalisation in games prices, but the prices have continued to grow since then.
This increase in prices is likely mostly driven by players purchasing more expensive games, rather than buying at lower discount rates. Many publishers have moved their default game price up from $59.99 to $69.99 in that time period as well as pushed their B tier games to be priced at more expensive price points.
Indie studios continue to see significantly lower average selling prices
Indie games sell, on average, at 61% discount VS their AAA counterparts.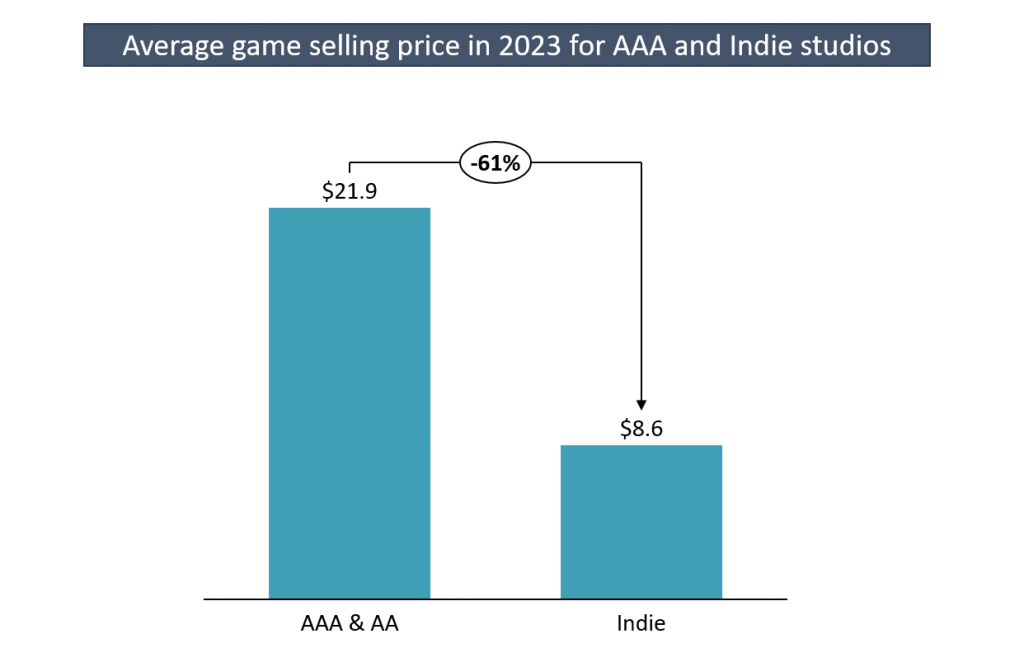 Of course, indie games tend to be much lower budget games. That also tends to be reflected in the base price. The original base prices for indie games are, on average, 63% cheaper VS AAA to begin with. The fact that the promo price adjusted average prices are similarly lower indicates that there is no substantial difference in indie VS AAA games promo strategies.
Large and small studios see a divergence of price increase in 2023
Historical pricing trends for large and small studios have been very similar. Both have seen large positive COVID impact to pricing as well as some normalisation in 2021.
However, 2023 has seen an 11% price increase for AAA and AA games as a result of some larger game releases that have driven up prices.
At the same time, indie studios' average price has decreased by -3% year over year. This comes at a time of high inflation, putting extra pressure on smaller studios and their ability to monetise the games.
Some genres attract higher prices than others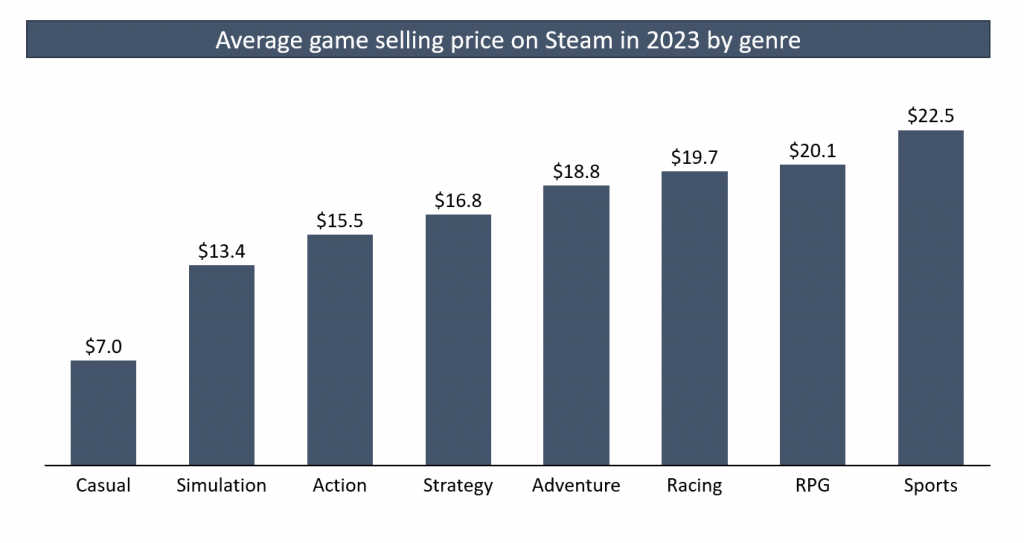 Key highlights on pricing differences by genres
Sports and racing genres tend to sell at higher prices than other games. Their player base tends to be different to typical hardcore Steam players. The players tend to be more tied to the specific sport or race as fans and, therefore, willing to pay higher prices and wait less for steep discounts.
Action and adventure games see the highest variability of prices within genre. Large AAA games like CoD continue to attract players at high price points while smaller studios have to come in at much lower prices to compete with the mega-budget games.
Casual games continue to be in their own category, with many games being free to play or priced at $1.99. This category most resembles mobile games and their business dynamic.
All genres have seen price growth in the recent years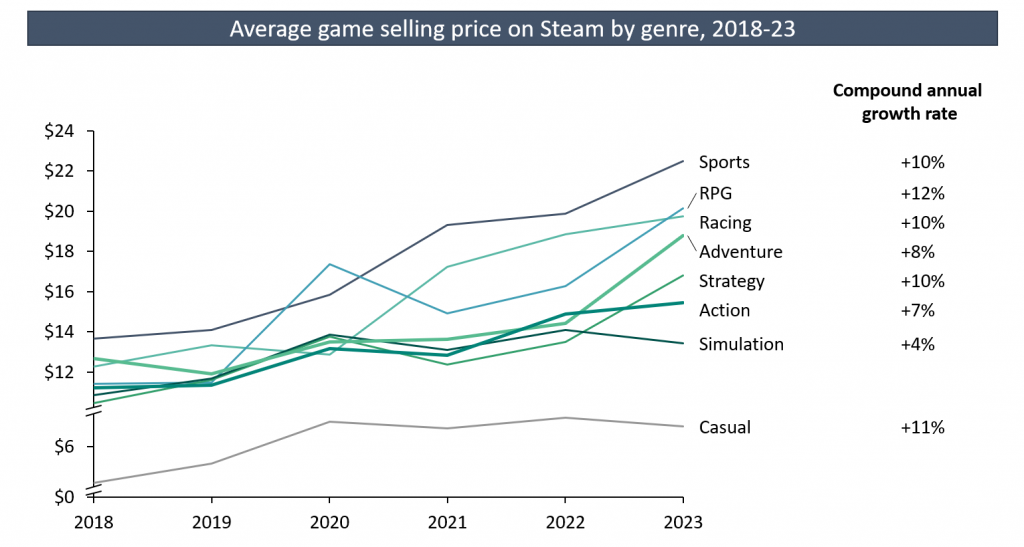 Key highlights on pricing differences by genres over time:
Most genres have grown their average selling prices by over 10% a year in the last 5 years.
Simulation games have grown less than others. This might be driven by an increased amount of lower tier simulation games being released on Steam.
RPG games have seen the highest increase, though that is largely driven by some major RPG releases in 2023.
Casual games saw a large structural shift in price during COVID and have stayed fairly flat since then.
Steam market continues to be healthy
Steam market has continued growing in 2023. Overall price is up 7%, but total untis are also up year over year. Engagement data, including concurrent users on Steam and in-game continue to beat records quarter after quarter.
You can keep an eye on the latest Steam market trends on our free Steam Market Data page – https://vginsights.com/steam-market-data
If you have any questions, please reach out to us on our Discord channel or by emailing support@vginsights.com.