How much money do Steam games earn? How much do indie games make? Is it worth being a game developer? How much is a typical indie game developer expected to earn by releasing a game on Steam?
We're looking into Steam data to find out if being a solo developer is a sustainable career and what that means for your earning potential.
This is an article brought to you by a free games market research platform Video Game Insights and is based on Steam stats.
Steam games lifetime earnings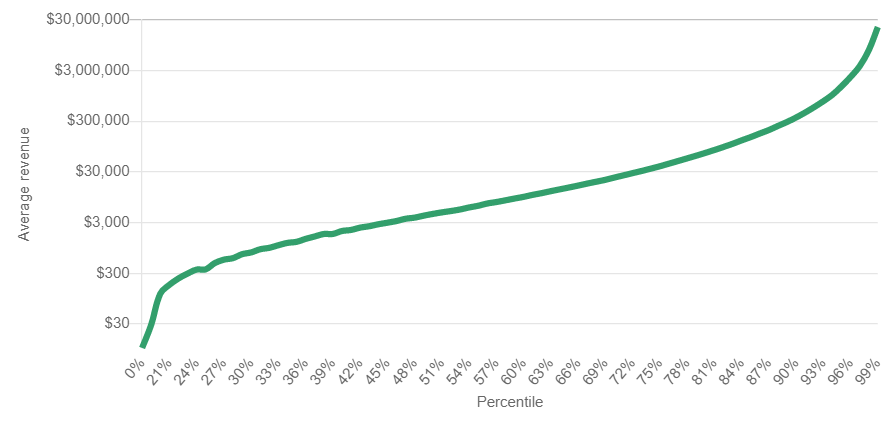 This graph covers over 40,000 games on Steam and shows how much each percentile made over their lifetime. For example, the median game (50%) makes about $5k. To find out more about steam stats, visit the VG Insights Steam Analytics page.
Initial insights:
Over half of the games on Steam have never made more than $5,000. That's before Steam cuts, discounts, returns etc.
Only 1 in 5 of the games have made over $50k, an average annual salary for a full time game developer in the US
That doesn't sound promising. $5,000 won't be enough to cover development and living costs if you've spent a year on developing the game. But then again, the majority of the games on Steam are hobby projects and 1 in 5 games are free anyway. To understand the true potential, we need to apply some further filters.
Earnings potential of a full time solo game developer
We can get a better picture of being a full time solo developer by looking at self-published single player indie games that are fully released (eg not early access).
The new sample includes about 3k games. We've removed the AAA games with hundreds of millions of sales as well as the tiny games that never made much money.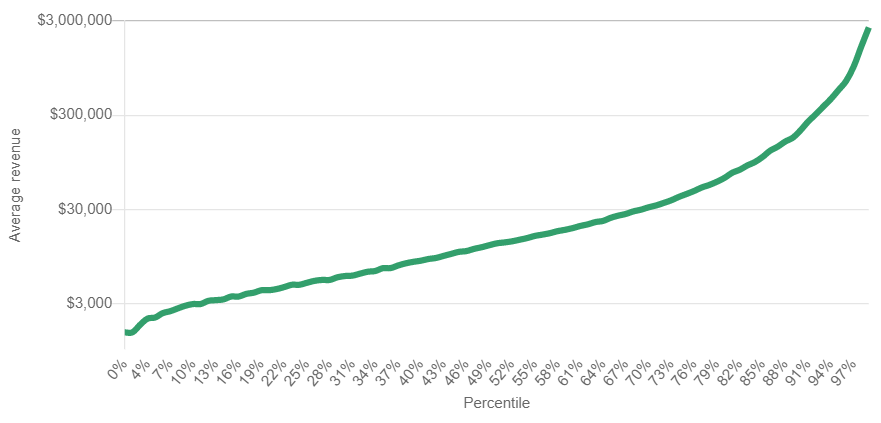 Results:
Bottom quartile of games make under $5k.
A typical (median) indie game makes about $13k.
Top 25% of indie games make over $44k.
Top 15% make over $108k.
Top 5% make over half a million each ($555k),
Only 15% of indie games make more than $100k of income. Your can learn more about which games earn the most and which games fail on our steam analytics platform. Examples of games in that category would be MicroTown and Horizon's Gate – Games with beautiful, but simple art and refined look. This looks like the kind of target an ambitious solo dev could set. It's not unreasonable to believe that a solo developer could make a game like that in about a year. At first glance, the earnings potential for a solo dev could be quite high.
How much can you earn with a top selling indie game?
I'm not going to cover in detail how developing on your own means you'll need to get good at art, coding, marketing and the business side. You'll have to learn some law and accounting and get lucky on top of all that. I believe in you and assume you can do all of that. I also make the assumption that the development time of such game would be about 1 year, which is on the faster end, but not unheard of.
Making it into the top 15% of indie games in terms of sales is a good achievement and grosses you over $100k. However, that's gross revenue. This means that it doesn't take into account Steam cuts, discounts, returns and charge-backs. There is a great article by Simon Carless about the hidden costs of getting to net on Steam. Applying these factors, we get to net revenue.
Gross Revenue of the top 15% games: $108k
Post Discounts: $86.4k (Generally, a lot of the sales come during Summer Sales or other discount periods. The discounts can often be over 50% during these times, so, a good rule of thumb would be to apply c. 20% reduction in revenues due to some of the sales being through discounts.)
Post Returns and Chargebacks: $77.8k (Around 10% of games are returned and charge-backs apply)
Net Revenue Post Steam Cut: $54.4k (Steam charge is 30%)
So, even in the optimistic case where a solo indie developer would see reasonable success, they would make as much as an average developer in a typical games company in the US.
The downside is that there is no job security. It's likely there won't be free fruit and nuts and Friday night beers at the office and you won't meet a bunch of awesome like-minded people as easily.
If you want to find out more about indie game earnings potential, I reccommend this video by a successful indie developer:
Is it impossible to earn enough as an indie developer?
It's certainly not impossible. There are successful solo devs out there and many things they do to improve their chances. Most of these factors are to do with business and marketing.
A successful solo developer realises that they are a solo entrepreneur. That means making the right pricing decisions, devoting a LOT of time on marketing efforts and doing proper research into the game space and competitors before fully getting into the development phase.
Being a solo dev is an option, but only for those with a wide skill-set that goes beyond development and art.
---
If you found this insightful, you might want to check out more games industry trends on our free Steam Analytics platform or explore data on any individual game or publisher!
Methodology
For narrowed down indie games analysis, we've established a couple of additional filters. The games have to have 5 ratings or more in order to exclude the so called hobby games and low quality games. They also have to cost between $4.99-$19.99 to AAA like indie studio games and very cheap end of the indie market. For consistency and latest trends, we're only considering games that have been released in 2018 or later.