New World has sold 4.5m units in its first month of release
New World's success can be compared to that of Valheim's that sold c. 5m units in its first month. Not many games have reached this level of launch hype and success.

According to our Games Database, New World is the 69th most sold game on Steam a of October 23. They've sold more units than Fallout: New Vegas, DOOM Eternal and Half Life 2.
With $150 million in sales already, New World is going to be a huge financial success
Priced at $39.99, that's more than $150m in sales (including Steam cuts etc). Given the typical budgets for games like this are over $100m with another similar sum spent on marketing, New World is probably already starting to break even. That's not even considering the in-app purchases.
With a long lifespan of MMOs, this means that New World will likely be a huge financial success for Amazon, eventually paying for its own as well as the failed Crucible game development and leaving space for a healthy profit after that.
New World's huge active player base
New World achieved over 500k active users shortly after launch, peaking at over 900k at one point and has now settled in a more stable 300-400k range. This type of decline in active users post launch is typical and expected. 300k active players is still a huge number and one that the Amazon team is no doubt happy about.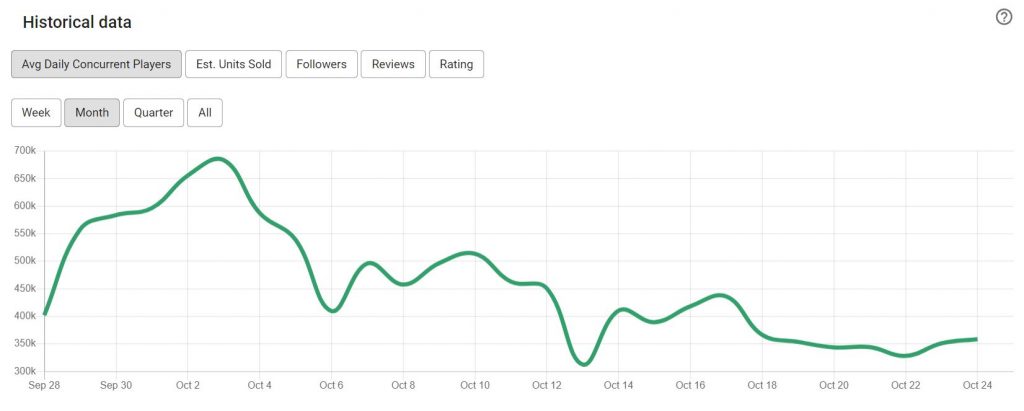 That's comparable to CS: GO's 450k, DOTA 2's 400k, PUBG's c. 170k and GTA 5's 70k average daily concurrent players.
Review bombing and recovery
New World's Steam ratings got bombed after launch, reaching below 45% positive ratings a day after launch. Since then, there's been a gradual recovery and the rating has stabilised at a respectable 75% positive range.

The main reason behind the terrible launch reviews is quite surprising. The game was too popular. Amazon's servers couldn't handle the hundreds of thousands of players and people had to queue for hours to get in. Quite ironic for a company that owns the leading cloud and web services provider, AWS.
Anyway, the problems seem to be solved now. The underlying game is solid, boosting the game's ratings to a deserving 75%. That's similar to No Man's Sky and Cyberpunk, both plagued with their own launch issues. Both have since become a much more enjoyable experience.
Summary
New World has no doubt had a successful launch. It's going to be a financial triumph and will establish Amazon as one of a few companies capable of developing a massive AAA standard MMO.
It will be interesting to see what else Amazon's got to give to the games industry and how they'll further leverage the cloud expertiese to provide massive multiplayer experiences.
---
If you found this insightful, you might want to check out more games industry trends on our free Steam Analytics platform or explore data on any individual game or publisher!