Steam market size over time
Steam games market reached $6.6bn in gross revenue in 2021. That includes premium games sales (including the Steam cut), but not in-app purchases.
More detailed and continuously updated data is available on the VG Insights Steam Market Data page.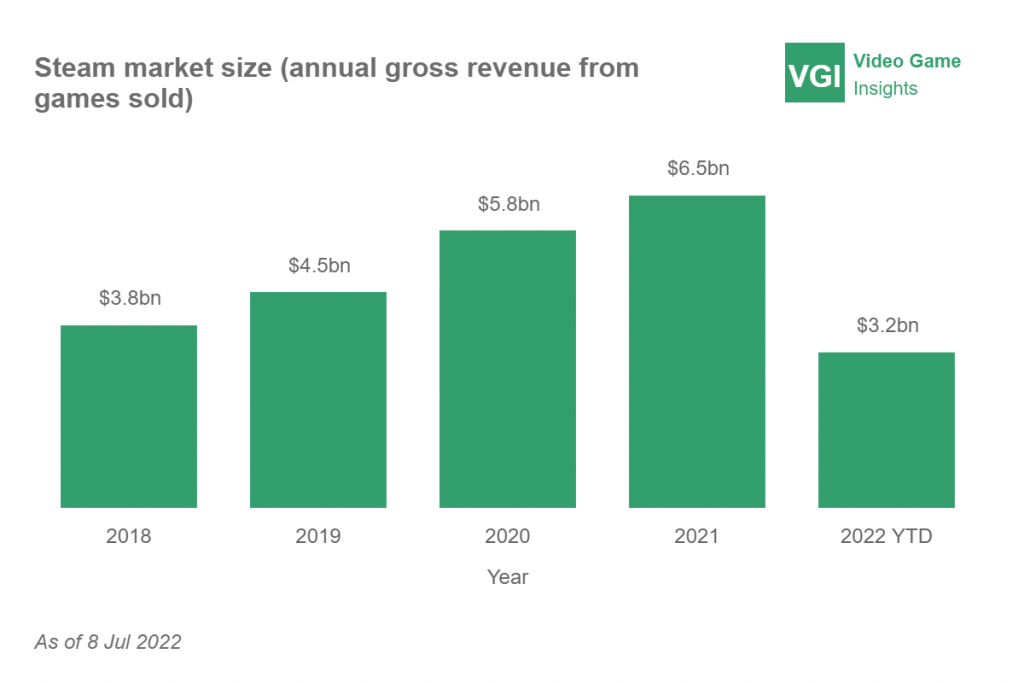 Steam PC market has grown by 74% in the last 3 years. That is 20% annual growth rate over the last 3 years. 2020 was an exceptional year, growing by 31% as a result of COVID. 2021 saw a more modest 11% growth as the COVID boost started to fade. There were less lockdowns and life returned to normality in many countries.
According to Newzoo, the total global games industry saw a 7.6% growth in 2021. Steam's 11% growth outpaced the rest of the games industry. That is contrasting to pre-COVID state of the industry where mobile was leading the growth and PC was lagging, growing at low single digits.
Drivers of Steam market growth in 2020-21
The Steam market benefited from several factors, COVID being the most important, but not the only one.
COVID boost – Steam, like other platforms, benefited from players having more free time and more disposable income during the lockdown periods.
Record number of game launches – Many big games were delayed in the beginning of COVID. Yet, 2020 and 2021 saw a record number of games released on Steam. Working from home allowed for more indie projects to be launched. 2021 saw 11,888 new games released on Steam, 19% more than in 2020.
Lack of next gen consoles – PlayStation 5 and Xbox Series X launched in late 2020, but have faced shortages since then. Chip shortages made it hard to manufacture enough consoles, pushing more people to PC gaming.
Drivers of Steam growth in 2022 and beyond
The first half of 2022 has generated $3.1bn of games revenue on Steam, 3% more than the year before.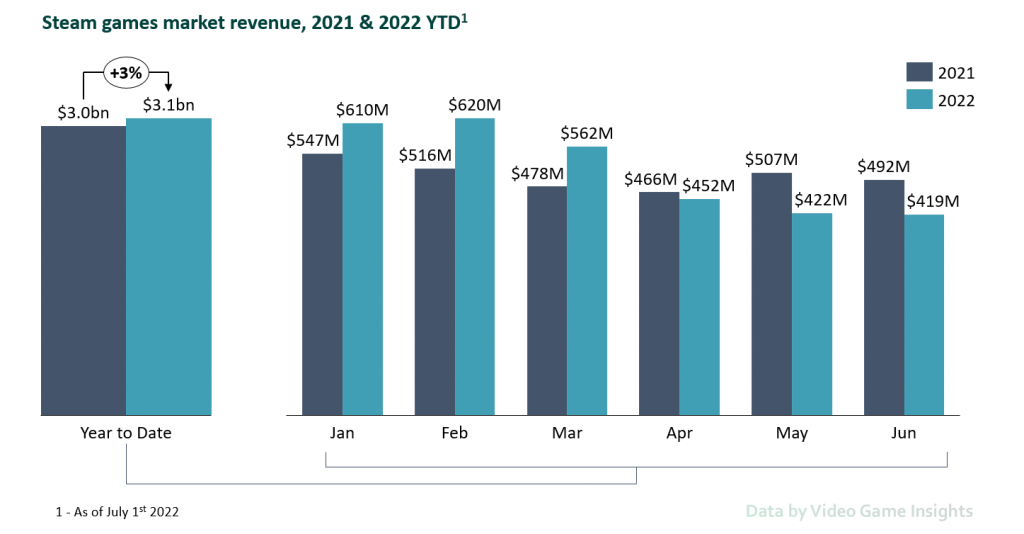 2022 revenues started strong, but have fallen below 2021 levels since April. The summer of 2021 still had lockdowns in place, boosting the games industry. The decline also shows some recession weakness starting to kick in this year as consumer spending weakens. Steam will end 2022 flat or slightly below 2021 levels.
To understand the Steam market growth going forward, we need to understand the key drivers.
Steam games revenue in 2022 and going forward
2022 and 2023 will see several positive trends continuing to impact the Steam market.
Crypto crash and graphics card affordability – As crypto mining becomes less economically feasible, more graphics cards become available in the market, pushing prices back to affordable levels after a few years of shortages. Read more about the GPU price drop here.
Increase in game prices – $70 price point is now a norm for AAA games on console, but most publishers have kept Steam prices at $60 until now. Square Enix, Activision and others have already announced an increase of Steam prices to $70 going forward, boosting industry revenues. Not the best news for PC gamers, but positive for the games industry revenues.
Continued indie game strength – Last few years have seen some strong indie titles appear on Steam – from Hades to Valheim, small studios have generated significant revenues. Indie game releases continue to see strong performance in 2022, especially as Unity and UE5 make creating high quality games easier and cheaper.
Large publishers new-found appreciation of Steam – Large publishers, including the likes of Sony themselves, have started to pay more attention to Steam. Expect more originally console exclusives coming to Steam.
However, Steam will also face some headwinds in the short to medium term.
Loss of COVID boost – The biggest 'negative' driver is really just a return to normality. Players return to their pre-COVID habits and even though as a whole, COVID has boosted the games industry forward, it has also pulled some revenue forward from 2022 and 2023, making these slower growth years.
Loss of consumer disposable income – The looming recession is already impacting consumer spend. However, we believe that this time, as with previous recessions, gaming continues to be resilient in the face of lower spend power. Not immune. But much less impacted than other industries.
The Russian invasion of Ukraine – Russia has been a large PC gaming market for a long time. Losing revenue from Russia as a result of sanctions hits PC harder than consoles.
Availability of gen 9 consoles – As more PS5 and Xbox X consoles come to market, players shift more of their focus back to consoles and away from PC.
Game launch delays – Some large publishers delayed big game launches to 2023, impacting 2022 revenues, but boosting 2023 expectations. Starfield, Redfall, Forspoken and STALKER 2 are just a few of the games that have announced delays.
The PC market will do better through the recession, even as the broader games industry faces challenges
2022 will see a decline in the games industry for the first time in many many years. Ampere Analysis recently released a report on the general industry trends. However, we believe the Steam market will be impacted less. Steam will also see revenue decline in 2022, but the short to medium term trends will continue to favor the PC market performance vs consoles. 2023 will likely return to growth, albeit at reduced rates.
It is important to remember though, that the underlying challenges of the industry are less driven by the recession and more by coming off the COVID highs.
Explore more of the Steam market data using the 'Steam market data' tool. Check out many of our other free features on the Video Game Insights platform.